Packing all your camera equipment for a diving holiday can be quite daunting and rather stressful.
Anyone who's travelled before will know how roughly checked in luggage is handled. Just look at the scratches, scrapes and bumps (and heaven forbid, cracks in hard shell cases) that are waiting to surprise you on the carousel upon arrival.
And if you watch carefully, you will see how the baggage handlers throw the suitcases into the aeroplane and if you're really lucky you'll also get to see when the piles of luggage fall off the cart and route to the aeroplane. That's really fun to see, especially when one of the suitcases is your unmistakable orange hard shell with the stripey band around it that your granny made for you so that you'd know it was yours…
I've even heard it said that if you have a fragile sticker on your case, the bag handlers entertain themselves by seeing how heavily they can throw it…. Just for fun…
How on earth will this all fit?
And why does the person at the check in counter ask if you have anything valuable in your suitcase as it's being checked in? OK, I do have a bit of an imagination, but when someone asks me that, I wonder why they need to know. Does a special message get passed down to the baggage staff that this suitcase is ripe for the plundering??
So, needless to say NONE of my camera equipment goes into my check in luggage. And that includes batteries which have to go into the hand luggage and every battery needs to be individually packed / sealed or at least have its terminals insulated. NB for Egypt!!
This leads me to packing my expensive, valuable, fragile camera equipment into my hand luggage. Now, most airlines only allow 8kg hand luggage (Kulula is 7kg) like a laptop bag / rucksack of a specific size (in the region of 56 x 36 x 23cm) and one personal item (hand bag). But check on their website before you travel so you know what you're aiming for.
I pack all my camera equipment into my ThinkTank Streetwalker Hard Drive backpack and my housing into my handbag (a soft material shoulder bag). I also just carry my housing as my personal item (handbag).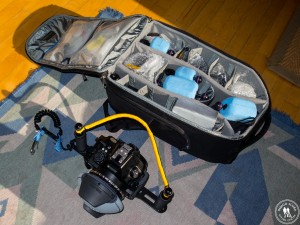 Almost ready to go!
I also put my camera into the housing and had the misfortune of dropping it en-route to the Red Sea.  Fortunately camera and housing survived, but I would not advocate such rough and tumble!!
Another thing you should definitely not do is leave the o-rings in the ports or door. Pressure in the plane will cause problems… always take the o-ring out before you fly and put them in a zip-seal bag.  Just remember which O-ring is which (I have a friend who flooded his camera on the first dive in Egypt as he put the wrong o-ring in the wrong place). Regardless, never fly with a sealed camera housing!
Be friendly at the check-in counter. Make your bag look light, hang it on one shoulder, don't struggle with it… If they want to weigh your hand luggage, do so in a friendly way – don't get defensive.
I'm certainly not advocating that you go over your 8kg allowance … However, if you do and you get caught out, pay the excess … this is far preferable than arriving at your destination with lost, stolen or broken equipment.
PS – I also travel with a ScotteVest which has 42 pockets so that if necessary, I can pop a few batteries, strobes and lenses along in the pockets. I also fit my sunglasses, phones and Ipad inside.  It's heaven, although it does make you look a little bulky… but what the heck?!  Who said travelling was glamorous anyhow!