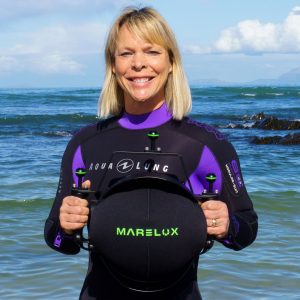 I'm passionate about sharing my love of the ocean and experiences with others through photography and story telling, and helping divers capture beautiful images.
Photography is a fantastic medium through which to create an awareness of the beauty – and plight – of our oceans. Images can stir many emotions and we, as underwater photographers, have the opportunity to tell visual stories about our underwater world and to encourage its protection and preservation.
I am a writer, photographer, underwater photography coach, dive boat skipper and dive guide for Indigo Scuba Diving Centre in Gordon's Bay and lead underwater photography trips to incredible destinations across our watery planet. I am also a public and inspirational speaker and enjoy sharing images and stories of our underwater world.
I am an ambassador for Marelux and currently shoot with a Canon R5 in a Marelux housing and use Inon Z240 when snooting and Supe D-Pro strobes for everything else. My go-to lenses for underwater photography are the Canon 100mm macro lense and the Canon 8-15 fisheye lense.
Writing / Articles / Judging
Public Speaking, Interviews and Webinars
I love to talk about underwater photography and our amazing underwater world. Here are some of my favourite interviews and presentations:
Underwater Photography Workshops and Coaching
I am passionate about helping divers improve their photos and teach a number of in-person and online underwater photography workshops. More details can be found here.
Accolades
Personally, I prefer to concentrate on my writing and photography and help others to improve their skills, which does not give me much time to go out and shoot for competitions.  I have entered a few (mainly local) competitions to promote underwater photography in South Africa: