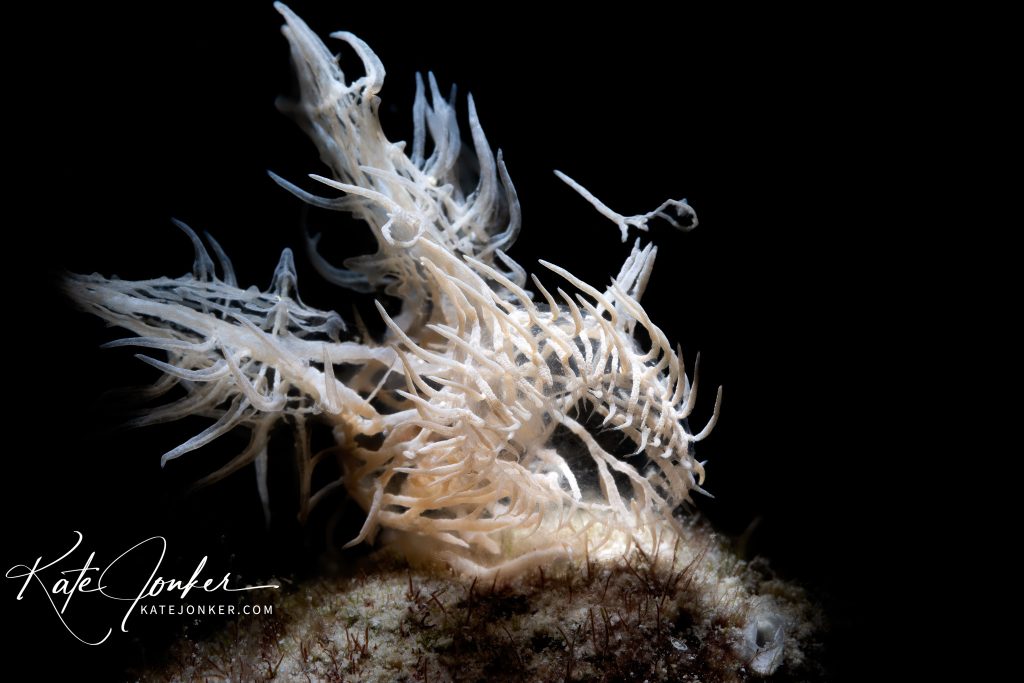 Romblon, a hidden gem in the Philippines, has gained a reputation among underwater photographers and scuba divers as a must-visit destination. This picturesque island offers a myriad opportunities to explore vibrant marine life and capture stunning underwater images.
From elusive creatures like the Ghost Nudibranch, Phantom Nudibranch, to the enchanting Butterfly Nudibranchs, Romblon promises an unforgettable experience for those seeking to check off their underwater photography bucket list.
Our experience
We headed out there in May 2023 to search for these incredible critters, and with a group of 13 intrepid divers and underwater photographers, we finally reached our destination, some of us (like myself and the rest of the South African team) having travelled for just over 55 hours!
We stayed with The 3 P, the sole dive resort on Romblon Island, the go-to place for scuba divers and underwater photographers.
The resort offers comfortable accommodation with en-suite rooms featuring twin beds, spacious work tables equipped with lighting and power sockets for hassle-free camera preparations. Oceanfront rooms provide a picturesque view of the mangrove swamp, creating a serene ambiance for photographers. The proximity of most dive sites, just 15 minutes away from the resort, adds convenience to the overall diving experience.
The 3 P provides excellent diving services, including equipment rental and boat dives with incredibly experienced and knowledgeable guides. Our dive guides Bobby and Rolly found us everything on our bucket lists – and more, seeking out the tiniest, rarest and most beautiful critters in Romblon!  We could not believe how tiny most of the marine life was, and our diopters and eyesight were certainly put to the test!
The Diving
Diving in Romblon is characterized by calm waters, making it suitable for divers of all levels. The experienced dive guides at The 3 P ensure a safe and enjoyable experience. With their extensive knowledge of the area, the guides effortlessly locate rare and captivating species, turning every dive into a remarkable adventure. The attentive boat crew adds to the overall comfort, providing clean towels and ginger tea between dives.
Romblon presents a paradise for underwater photographers, with its clear blue, warm waters and minimal surge or currents, allowing photographers to capture the intricate details of the marine creatures. The visibility ranges between 20 and 30 meters.
Prepare to encounter an abundance of tiny, well-camouflaged creatures ranging from Butterfly Sea Slugs like Cyerce nigra, Cyerce sp. (cf. bourbonica), Cyerce elegans, to the elusive Phantom Nudibranch (Melibe colemani), Ghost Nudibranch (Melibe engeli), and various species of Pygmy Seahorses. Romblon is a treasure trove for macro enthusiasts, offering an opportunity to photograph over 500 species of nudibranchs and sea slugs.
Dive Sites
Romblon boasts several top dive sites that will leave scuba divers and underwater photographers in awe. Coral Canyon, with its deep sloped reef adorned with pristine, colorful hard and soft corals, is home to diverse marine life such as schools of fish, beautiful nudibranchs, pipefish, and rare crabs and shrimps. Magnificat offers a breathtaking shallow coral garden teeming with a variety of reef fish. Logbon Sanctuary is renowned for its Butterfly Nudibranchs, while Sandslope reveals snake eels on the slopes and the adorable Shaun the Sheep nudibranchs in the shallows. Logbon Mangroves is a must-visit site to encounter the fascinating Melibe nudibranchs.
Beyond Diving
While Romblon is a haven for scuba diving and underwater photography, the island offers more to explore. Embark on a motorbike or tricycle tour to discover the Botanical Garden, Lagpanabat Scenic Point, and Fort San Andres—a historic Spanish fort with panoramic views of Romblon Town. Visit the beautiful St. Joseph Church, a National Cultural Treasure, or indulge in a refreshing drink at Sunbird Ridge while enjoying breathtaking views of the bay. Romblon's pristine beaches invite visitors to relax and soak in the island's natural beauty.
Logistics and Planning
Passport holders from most countries can visit the Philippines visa-free for up to 30 days. However, it's advisable to check with the Philippine Embassy website in your country for specific visa requirements. Getting to Romblon Island requires logistical planning, with options including flying from Manila to Tablas Island and then taking a boat to Romblon, or a combination of bus and ferry journeys. English is widely spoken in Romblon, making communication relatively easy for international visitors.
Conclusion
Romblon Island in the Philippines stands as an unparalleled destination for scuba divers and underwater photographers. With its captivating dive sites, remarkable marine biodiversity, and comfortable accommodations at The 3 P, Romblon provides an unforgettable experience for enthusiasts seeking to capture unique underwater images. Whether it's encountering rare nudibranchs, exploring diverse reefs, or immersing in the island's natural beauty, Romblon promises an adventure that will leave a lasting impression.