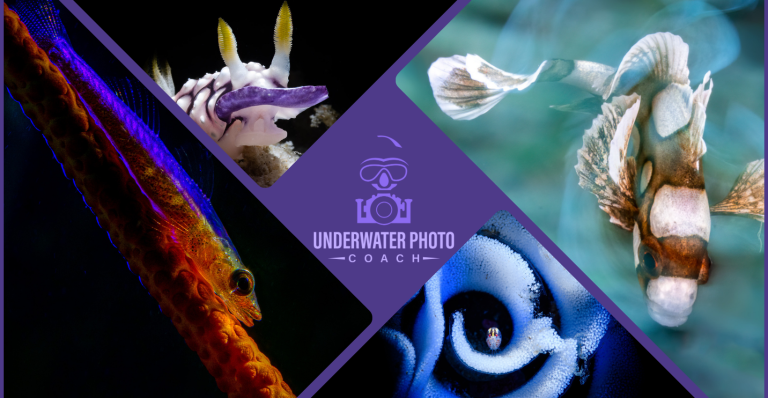 Dive into Macro Magic
Join Our Bali Workshop in May 2024
Dates: Arrive Bali 8 May 2024 – Depart 18 May 2024

Price: US$ 2 235 (per person sharing) – includes FREE daily workshops and image reviews

** As I am keeping the group small to ensure everyone gets my undivided attention, there are only 12 spots available.
Join me on an extraordinary 10-night macro underwater photography workshop trip to Bali in May 2024! Immerse yourself in the magical waters of Tulamben, Bali, and embark on a journey to capture the awe-inspiring beauty of the underwater world through macro photography.
Whether you are a beginner looking to enhance your skills, or an experienced macro photographer seeking new inspiration, this workshop is designed to take your underwater macro photography to new depths.
By the end of the trip, you will have an incredible set of images, have met some really awesome, like-minded underwater photographers and mastered an entire set of macro underwater photography skills.

You will return home knowing how to:
* Understand and use the correct settings for your setup to create tack sharp images.
* Compose your shots to create beautiful, striking images.
* Use a diopter to create crisp images that will fill the frame – no more cropping!
* Control and position your strobe(s) or video light for perfect and creative lighting.
* Create black backgrounds without a snoot.
* Properly use a snoot to light and isolate your subject.
* Be a creative superstar using camera settings.
* Use colour filters or coloured torches for creative lighting techniques.
* Establish your own style of macro underwater photography.
* Bring your photos into Lightroom and use the basic editing techniques.
With this comprehensive workshop approach, you'll gain a deep understanding of macro and critter photography, refine your techniques, and take your underwater images to new heights. So, join us on this incredible journey of exploration and learning as we capture the beauty and intricacy of the underwater world together.
The Workshop
The focus of this workshop is to dive deep into the world of macro and critter photography. We will have daily workshops, with each covering a different aspect of macro underwater photography, covering everything you need to know to create beautiful, tack sharp and creative images.
Your workshop begins before you even leave home as it includes an hour-long one-on-one Zoom coaching / Q&A session with me, and the opportunity to join one of our pre-trip Zoom workshops. I want you to be as prepared as possible so that you arrive feeling confident and ready to immerse yourself in your macro underwater photography adventure!
Each morning, I will present illustrated talks that provide you with valuable advice and fresh ideas right before you head out for your dives. It's the perfect opportunity to put what you've learned into practice and elevate your skills in real-time.
In the evenings, after we've enjoyed a satisfying dinner, we will gather for image review sessions. This is where we come together to analyse the strengths of our captured images and identify areas for improvement. It's an invaluable chance to see the incredible work produced by others in the workshop and gain inspiration and suggestions for your own images. It's a collaborative and supportive environment that fosters growth and creativity.
The Diving
Tulamben, on Bali's north-eastern coast, offers rich marine biodiversity and incredible dive sites perfect for macro subjects. From critters like nudibranchs, seahorses, and frogfish to vibrant coral formations, Tulamben provides a diverse backdrop for your macro photography adventures.
The workshop includes free nitrox for nitrox certified divers and 27 dives in small groups, allowing for personalized attention and ample practice time. You'll capture stunning images of Bali's vibrant macro subjects while receiving guidance and support to enhance your skills. With a ratio of one guide for every two photographers, our dedicated team will seek out the most sought-after and beautiful macro life in Tulamben.
The Accommodation
Indulge in beautiful and comfortable accommodations amidst Bali's natural beauty, and savour delectable meals that will fuel your underwater adventures. All rooms are en-suite and air-conditioned, and breakfast, lunch and dinner are included daily. Between dives, take in the breath-taking scenery and immerse yourself in the local culture.
Summary
Whether you're an aspiring macro photographer or a seasoned enthusiast, this 10-night workshop dive trip promises an unforgettable experience. Non-photographer buddies are also welcome, especially if you usually dive together as a team. This way you will both benefit from knowing how successful images can be created when you work together.
Elevate your macro photography skills, create a remarkable portfolio, and connect with like-minded individuals who share your passion for capturing the intricate beauty of the underwater world.
BOOKINGS AND ENQUIRIES
Please contact me now for full trip details of what is included in the price, and to book your place on this transformative journey beneath the waves.